Joined

Jun 23, 2010
Messages

10,683
Reaction score

93
Points

920
Boar Slaves: A guide to successful companionship.
​
Boars do make wonderful, loving and friendly pets, they can also make loving and lasting relationships with their own species, both boars and sows!
I have decided after a year of being on here and giving the same advice to many owners to create a reference guide for all new and existing owners.
These are the topic I am going to cover:
• Bringing your boar(s) home
• Behaviour
• The Perfect Boar Home and Creating an interesting environment
• Bonding Baths
• Introducing a third boar to an Existing pair
• Fall-outs
• Other options after a failed bonding
• More information and advice.​
Bringing your Boar(s) Home
Congratulations on your new arrival(s)!
As with any new guinea pig or pet please allow 24 hours for your new little one to settle in and become adjusted to their new home, to the new smells, sounds and environment. For your new pet to become settled and relaxed this may take around a week, and it can take several months to a year to gain trust and a lasting bond between yourself and your pet.
Boars are exicitng, and loveable companions and do make wonderful pets, as with sow guinea pigs boars do need company and companionship of their own kind it is essential for them to have friends as guinea pigs thrive with their own company. If you need more information on where or how to get the perfect friend for your boar please scroll down below and see 'more information and advice.
Boar Behaviour!
Guinea Pigs are complex creatures and communicate through body language, sounds and wheeks. A fantastic thread is available to read on here on everything you need to know about boar behaviour and the difference between dominance displays and fighting. For every boar owner this is a must read, please take some time to read it and become familiar to their behaviours:
Illustrated Bonding / Dominance Behaviours And Dynamics
All boars go through their hormonal stage between six weeks and fourteen months,
this is the time when most fall outs occur, during this time a range of boar behaviour will be seen and heard.
However there are a number of other factors which contribute to dominance displays and aggression in boars.
Time of Year
I have noticed with my boars, during spring they test out their dominance again this is due to their natural hormones letting them know that its that time of year to strut your stuff and impress the ladies.
The summer can also result in aggravated boars if they are too hot, warm and stressed out. Please keep your boars cool during the summer months, if they are outside in the run make sure you cover the run with a towel or two to provide a shaded area and make sure there is water present at all times.
Moving, new environment, and other stresses
New environments or a clean neutral cage can cause boars to test out their dominance all over again. This is just for them to confirm who is top pig. This should calm down after a couple of hours.
Keeping boars near females
If boars can smell females they may or will argue and may result in fighting try to keep your boars as far away from females as possible.
Illness
Illness can cause boars to fight, due to one being weaker than the other. If you do suspect illness please seek vetinary advice and guidance.
Creating the Perfect Boar Home (and an interesting environment)
Boars need space, and a lot of it. If you can try to provide a large stimulating environment as possible, the recommend amount of space for two guinea pigs is 4ft by 2ft, but for boars I'd go as big as possible. 5ft x 2ft is a brilliant amount of space, this allows the boys to play, grow, and get away from one another as they grow.
Make sure your new cage or hutch is clean, and if bought second hand doesn't smell of females so wash with pet friendly disinfectant.
Having a large amount of space means that the boys aren't 'living on top of one another' they can get away and have their own space to relax. If you can, and have the space to try to create two bedrooms, two eating spaces in the boars home at opposite ends of one another this allows them if arguing does occur to have their own space to eat and sleep.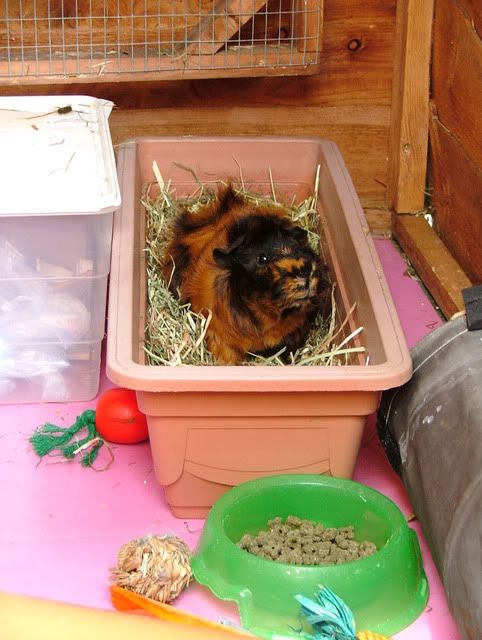 Two of Everything
I can't reiterate this enough, two of everything is a must for boar homes. Two bowls, two bottles, two hay trays, two toys. This allows the boys to have their 'own' stuff, this way they don't have to argue who gets what. Two food bowls and hay trays also means that if one boar is being bullied by the other more dominant boar he can get all the nutrients and food that he requires.
Two Hideys
Adding two hideys into their home allows both boars to have their own safe heaven, as well as somewhere quiet and fun to play in. You must remember to get a hidey with two entrances/ exits though, as one boar can become bullied into a corner if there is only one entrance or exit. The best hideys I've used is the cardboard boxes you can get at the end of supermarket shopping tills. Cardboard boxes are also very fun to chew and let some frustration out onto!
A cuddly toy
A cuddly safe toy, remove tags and usually baby/ newborn toys are great for pigs. Putting a cuddly toy in the cage sometimes allows boars to take their frustrations, and urges out on the toy instead of each other!
​
[*]

Hay and lots of it!

[/*]
Try to create a fun and interesting environment for your boars to play in, and if you can rearrange their home daily this way it keeps them interested in exploring rather than having a go at one another.
Creating an interesting and stimulating environment doesn't have to be expensive either, it can be created cheaply and quickly too. Try using safe household objects to keep the little ones occupied.
Some favourites of my boys are:
Pot plant pots filled with hay.
Loo rolls filled with hay and hung up on string
Chubes (piggie cardboard tubes available at most pet shops/ online stores) filled with hay and herbage.
Newspaper (safe ink) shredded then rolled into a ball
A stimulating environment
CONT.....
Last edited: