Greetings, everyone!
I am a newbie to this forum. If you'd like, you may read my intro
here
.
Ginger and Cocoa have only been with us for 10 days. Tonight, I brought them out to sit on the couch with DH and me. DH gave them a couple of raisins. Later, I gave each of them a seedless grape. You could see the light bulbs go on in their little heads: "Being out with the humans has its rewards!"
DH got up to go to the other room and then the games began, Ginger kept running over to sit in my lap. Cocoa is more timid, so he just came and snuggled by my leg.
Then Ginger invented a new game. He would run up my body, around the back of my neck and then down my arm, which became a ramp to the couch. He did that twice in a row; I'm convinced that he knew what he was doing.
Anyway, since they were out and about I decided to take a couple of pics with my cell phone. The quality isn't great, but here, without further to do are my pig boys.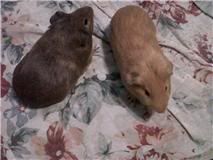 I love them so much.