Joined

Feb 20, 2011
Messages

8,777
Reaction score

723
Points

820
Location
Well, let me introduce you all to my troublesom trio.
We started off buying 2 " Female" GP's, (they were our very 1st Gp's, pet shop bought) We called them Honey & Lilly took them to the local vet to check they were ok etc, the vet said "Lilly, thats a funny name for a boy, we replied and said oh no its a girl, then the vet said no this is a male and showed us why, and she said Honey is pregnat! So we booked him straight in to be nuetered, which happened on December 23rd 2008, and on 7th January 2009 we got home from work and 3 little babies sit there next to mum in the cage, i was so excited, but we then had to rush to my OH's dads to get a spare cage as Lilly could still be fertile and put him in the cage right next to Honey & the babies, 2 days later we went on holiday so took the 2 cages over to my OH's dad's, (they also keep GP's) sadly one of the babies died whilst we were on holiday. When we got back we decided to call them we called them Millie, Minnie(as she was the same colours and markings as mum) & little Lilly (as s/he was the same as Lilly) Little Lilly was the one who passed away when we were on holiday. But anywhoo the name Lilly has stuck and he is still called Lilly to this day, i dont think he minds much!
Sadly last year we lost Honey & Millie on 2 consecutive days, i'd rather not talk about this though as i still get very upset over it.
Here they all are though.
These are when we first got them. (October 2008) (Babies Born January 2009)
Our Gorgeous Honey, (Mummy to Milly & Minnie) since passed to the bridge
Lilly (daddy)
Any Apples in here.......
Millie, who sadly passed away, in her favourite tube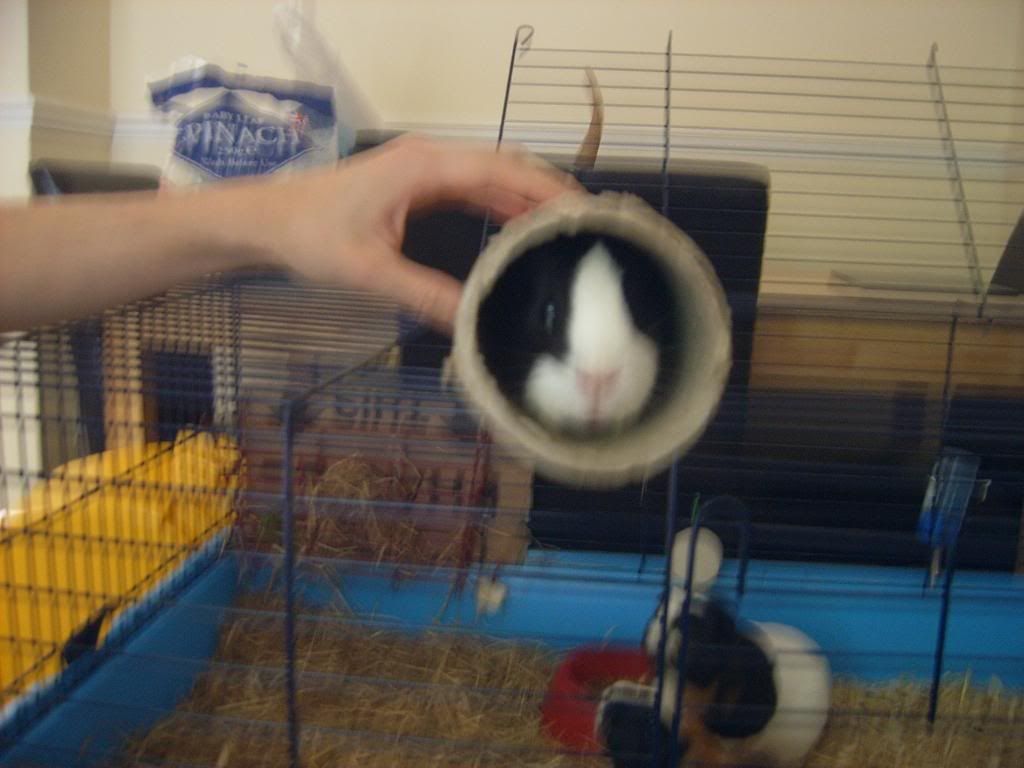 Minnie who is as small as she looks, another reason for calling her Minnie.
Then we have our most recent addition, Tofee, Toffee woffee for long!
Well, me and martyn went for a ride out to Great Yarmouth, went round the market and in a few shops, had lunch out then on our way home we stopped off at pets at home, naturally we peaked at the guinea pigs etc and sitting there amongst a few other guinea pigs was my little toffee woffee! Some of you may know i have been wanting a ginger piggie for a while, so i had to have her. We were hoping to re-home one but they were always boys! She is all ginger with red eyes and she is tiny!
Hope you all Enjoy, sorry aboput the blabbering, but thought it best to start from the beginning so you know our story. xx