Hi everyone, i went to ASDA today and they where selling some choclote kits to make 2 choclote flowers one thats white choc and one thas milk and my sister charlotte spend two hours making them, Charlotte in 19 and has Cerebal Palsy she is a wheelchair user and has problems with moving her arms etc so needed alot of help i took some pics hope everyone doesnt mind me sharing this with you she was so excited especially when she used the microwave!

they are mobile pics so small and not perfect but hear goes .................


Charlotte with her kit on her tray!


Charlotte putting the chocolate in the microwave


Charlotte with her oven gloves gettin the choc out the microwave


me helping her poor the choc into the flower mould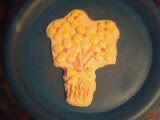 the almost finished white choc one, charlotte decorated them all herself!


the almost finished milk choc one


and the finished product! in there gift bags

the white one for our nan and the milk for our mum she was so excited!, shes put my mums next to a pot of lillies that she nearly smashed when she got excited and went to knock it off her tray hehe anyways i thought i'd share this with everyone, my amazing sister Charlotte ;D

x x x