Hi guys.
My Persian Queen, Oscarbara Bursting the Bubble.
Had her first litter of kitties today. After a bit of a worrying start.
due to the fact that it was my first day in 8 days of having to leave the house to take one of the kids for a hospital appointment and she wasn't due till Sat. so thought I was safe leaving her. (she had other plans)
Came home before picking up kids from school, to the noise of kittens squealling and coming from under the kitchen work top.
Took the cupboard plinth off to find 3 big kitties all still attached to their placenta's and one still in its sack all wet and cold.
really thought they weren't going to make it. the one in the sack not breathing, did mouth to mouth and rubbed loads after a couple of minutes it came round

sorted out placenta's.
Hot water bottle, put mum in carry cage and she started again,
Number 4, Breech but fine.
No sooner she had finished she scooped the other 3 towards her and hasn't looked back, Purring like a train.
they are all feeding
will post some piccies in a few days when she is less protective of them

Karen
Here goes piccies taken today not the best but did them quick whilst weighing them
Red and white
Black and white the one I got breathing again
2nd black and white Has a white strip on its back, but cant see in that piccie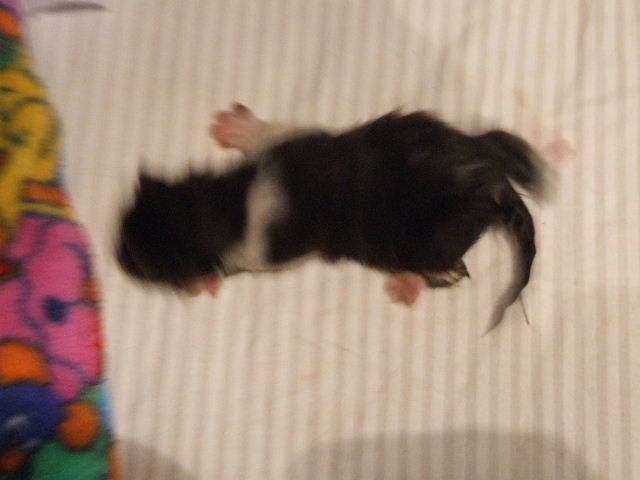 the small all black one
Group hug black one is there somewhere
This is mum in her makeshift home
will post more when eyes are open
thanks karen