Joined

Jan 3, 2010
Messages

69
Reaction score

0
Points

0
Location
Hi,
I put a post on recently about looking for alternative bedding for fleece as my 2 girls were constantly digging up the fleece and inco pads and doing their toilet duties in the bottom of the cage. This was causing me problems with cleaning as I am currently experiencing relapse probs with my M.E and constantly feeling exhausted. They were spending the nights in a casita 120 cage on fleece, but this isn't a particular user friendly cage as the high sides make bending over to clean difficult. They were spending the day time in a C&C type cage on newspaper and hay, but again this wasn't ideal as the tray sides were low and they were weeing and poohing over the sides. After considering other types of bedding I decided the best thing to do was make another C&C cage with high sides as newspaper bedding with puppy pads are the easiest cleaning option for me.
Where my husband works they have a plastic welding section and his work colleagues have made me a brilliant tray base with an upstairs tier. I might switch back to fleece when I'm feeling better, but for now the newspaper option is working well and I don't have the added mess of removing hay and hairs off fleece.
Here are some photos of my new set up. Not as large as I would like due to lack of space, but they do have some supervised free range time every evening. Bottom level 110cm x 70cm with top tier 70cm x 30cm. There is more useable space in this though than the casita 120 which was recommended as suitable for 2 piggies.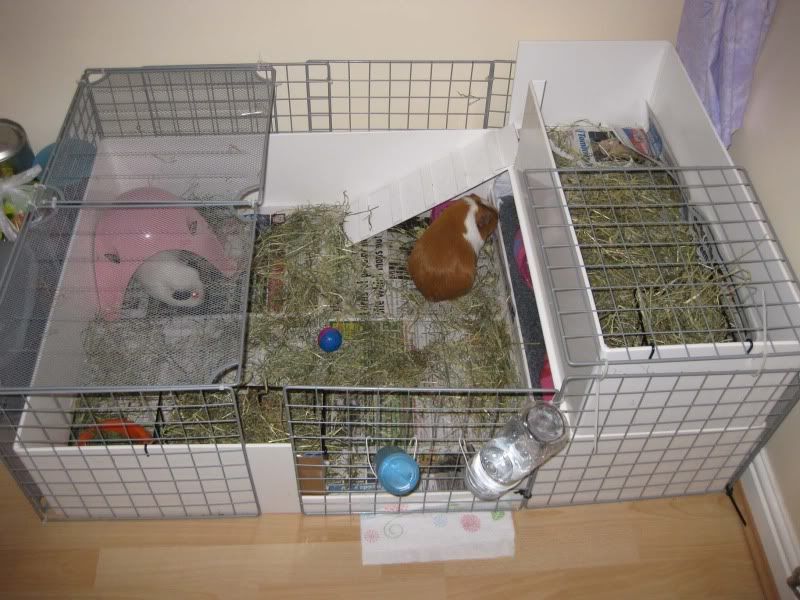 love jude xx