Joined

Jan 10, 2016
Messages

539
Reaction score

702
Points

525
Location
My rescue sow, Fudge, has been having some rather severe skin issues over the past month, since I got her. Things have gotten worse over time, but it's hard to quantify how much as her fur hides a lot of the issues unless you really have a good rummage (which she finds very painful and absolutely hates).
When she first came to me, she was extremely itchy, to the point where she was opening up multiple lesions on her back and shoulders. She had some scurf on her skin too. I took her to the vet and they diagnosed mites; I had Xeno450 at home so treated her for a couple weeks myself with their blessing.
Things weren't getting better, so I took her back to the vet, who injected her with Panomec -- they said that sometimes really severe cases needed injections. She's due to go back for her third course of injections this weekend (this will be her fifth week of being treated with some form of ivermectin).
She seems less itchy now, but is still scratching and opening at least a couple of new lesions a week. Her scurf is so bad in places that fur is just hanging onto the skin -- in some places (such as most of the skin on her back) the scurf is so thick that the vet found it incredibly difficult to get through the skin in order to inject Fudge. Some of the fur comes off easily when tugged, but other fur doesn't -- there's no visual difference, all have crusts of scurf. I've bathed her once, but only in the Gorgeous Guineas long-hair shampoo and it didn't make much difference at all (maybe slightly less greasy fur).
I'm starting to wonder if this is fungal. Multiple vets at the practice have looked at samples of her hair and skin under microscopes and found neither mites nor fungal, but that isn't unusual. Most vets I'm spoken to reiterate that fungal is relatively uncommon and this doesn't look like a typical case. However, the invermectin isn't doing anything to clear the skin up; if anything it's getting worse.
I can't hold her much as she just tries to bite as she's obviously sore. Brushing her fur is very difficult and extremely painful for her, especially if I happen to touch upon one of the thicker patches of scurf. Bathing her is even worse, but we managed

.
Has anyone seen anything like the pictures below? I'm somewhat tempted to treat her on spec with Nizoral shampoo and Daktarin oral gel to see if that helps at all; I know bathing is not recommended for guinea pigs with mites, but her problem doesn't seem to be clearing up after ivermectin. I just want her to feel better!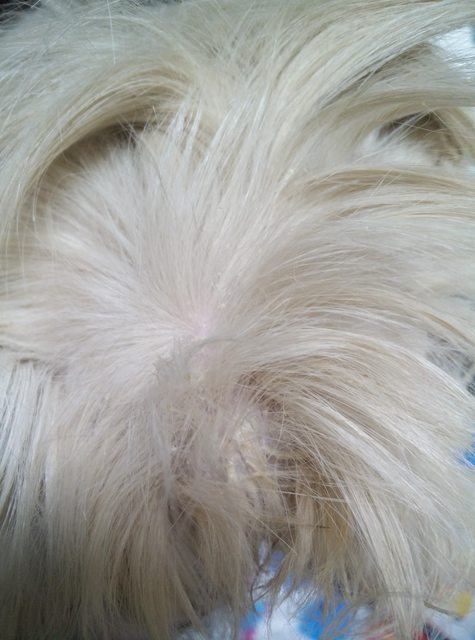 Feeties tax!